Generark Solar Generator (HomePower ONE Series)
If you live in the Midwest, this may be a product you rarely think about since we don't have hurricanes or terrible storms, regularly. But having a generator gives you SO MUCH peace of mind! We didn't want a super expensive, gas-guzzling generator, so we researched one that harnesses the power of the sun!
We absolutely love the Generark (Geneverse) and it's already come in handy! Kevin was updating some of our old almond-colored light switches to our new white ones and turned off the electricity throughout the home, to get the job done quicker. Of course, at that time, my laptop was dead and my phone was nearing the end, too. With Generark (Geneverse) , I could easily plug in my phone and laptop to keep power/charge as he completed this task! Now, think of how amazing this would be in a real problem – your power goes out from a storm, broken power line, power grid issue, etc. I know I need electricity to keep my insulin from going bad, so having this in our home seriously shaves a bunch of stress off my "what ifs."
Generark (Geneverse) HomePower ONE Power Station
When researching generators/power stations, I tended to hone in on five items: battery power, the number of charging ports, portability/ease of storing, safety/reliability, and price.
Battery Power
The Generark (Geneverse) HomePower ONE unit has 1,002Wh (278,400mAh). It offers up to 7 days of power supply to your crucial devices and home appliances on a single charge. Here's Generark's chart for how long it can keep a device going on a single charge:
When you pair the Generark (Geneverse) HomePower ONE Power Station with its optional SolarPower ONE Portable Solar Panels, these two devices give you enough power to ease your mind and ensure your power is covered!
Charging Ports
Of course, you need a power supply that you can actually use with your devices! The Power Station comes equipped with two USB-A ports (5V/2.4A and QC 3.0) certified by Qualcomm quick charge 3.0, two USB-C ports (PD 18W), and a 12-volt car outlet. It also comes with three 110V AC outlets which can power small refrigerators and similar appliances, TVs, camera equipment, and more!
The Portable Solar Panel also includes USB-A and USB-C ports that can directly charge the common mobile devices. Talk about convienent!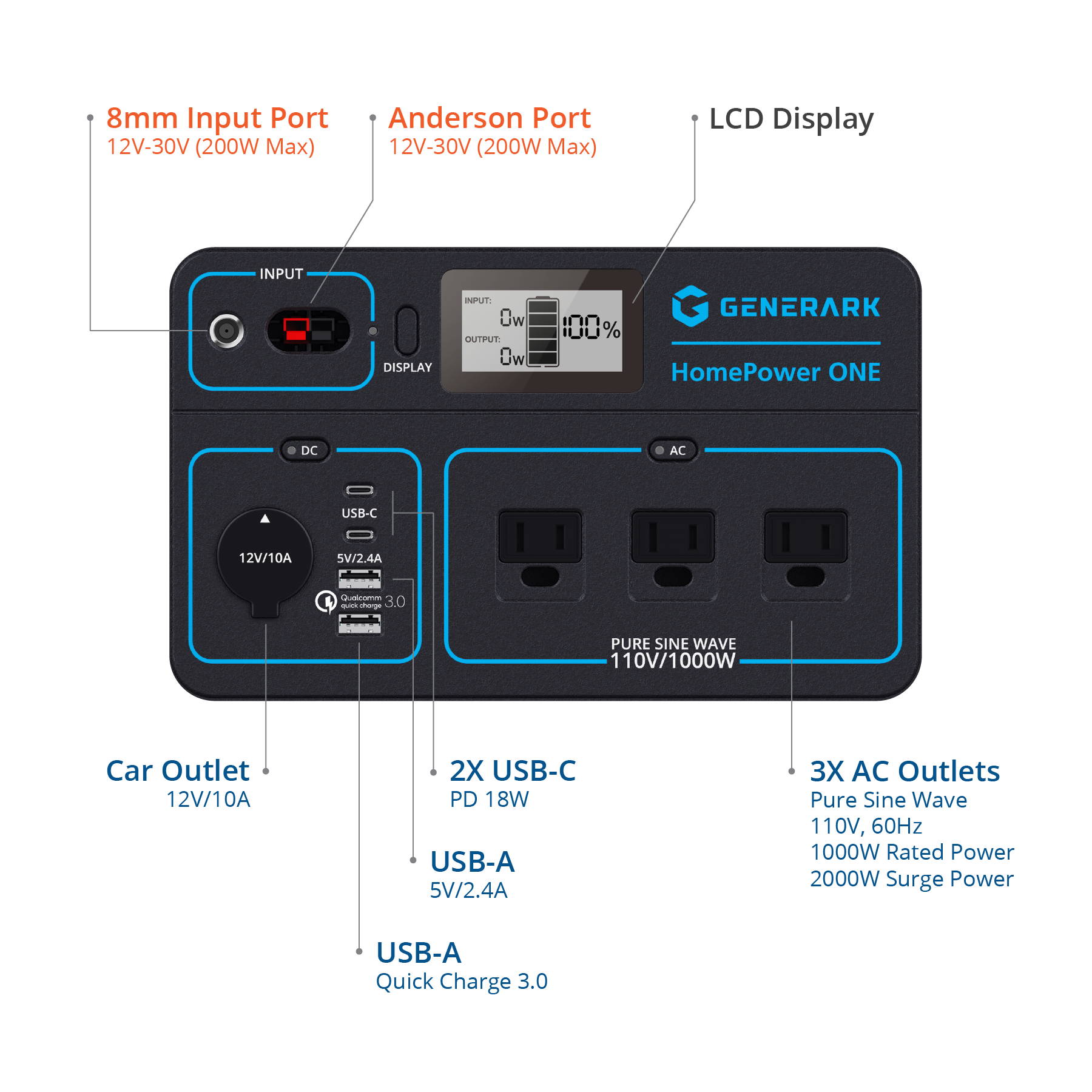 Portability
This was a must for us. We didn't want something that I couldn't move without any help. The HomePower ONE Power Station weighs around 23 lbs. It's dimensions are: L 13.07″ x W 9.15″ x H 9.57″ (33.2 x 23.23 x 24.3 cm).
Definitely, something I can handle on my own, and a perfect size to keep stored in our home. Of course, you can always take this with you for camping or a road trip, as well!
Safety & Reliability
Generark (Geneverse) states, "Industry-leading safety and reliability designed with electric-vehicle-grade battery cells. Every unit undergoes 52 reliability and safety tests and is covered by a 5-year limited warranty." That has to give you a big sign of relief. I mean, the whole point of purchasing this Power Station is for it to be reliable!
Price
With great quality, comes a price. But Generark (Geneverse) is extremely reasonable in their pricing all the while providing so much quality, reliability, and peace of mind!
GENERARK (Geneverse) SOLAR GENERATOR COUPON CODE LINK: Click this link for an exclusive discount on Generark (Geneverse) products!
How do you charge the HomePower ONE?
You can charge your HomePower ONE with an AC outlet (takes about 7 hours for full charge), solar power (takes about 8 hours), or car outlet (takes about 14 hours). The power that is charged stores for up to one year!
How do you set up the SolarPower ONE?
The lightweight, foldable and portable design allows for easy set-up and transportation. With the adjustable kickstand, it takes 30-seconds or less to set up or takedown for quick, worry-free access during an emergency. Take a look at how easy it is!
Would you recommend the Generark (Geneverse) HomePower ONE Power Station and the Generark (Geneverse) SolarPower ONE?
Absolutely! These two items have given me tremendous peace of mind. I feel like they are worth every penny. Head on over to Generark to purchase and get some peace of mind for your home and family!
GENERARK (Geneverse) SOLAR GENERATOR COUPON CODE LINK: Click this link for an exclusive discount on Generark (Geneverse) products!
Let's get social! Connect with me…
INSTAGRAM | BLOGLOVIN' | ETSY SHOP | FACEBOOK | PINTEREST | TWITTER
FYI: When you use my links, I receive a small amount of the sale at no extra cost to you. I truly appreciate your support and please be assured that my reviews represent my honest opinions, always!