For the past couple of years, my husband and I have been on the search to find products that are better for our health AND still do what they are intended to do. We started off using a clean brand of deodorant and while it "worked" for me, I often got rashes on my underarms because the baking soda they used would aggravate my skin. It also didn't stop any odors for Kevin. We weren't thrilled. So we kept searching. Primally Pure was a brand that had been on our minds for a while and just a few months ago we pulled the trigger.
Our Order from Primally Pure
Description: Activated coconut charcoal contains added detoxifying benefits while also deodorizing and disinfecting. Goes on virtually clear and doesn't stain clothes.
Ingredients: Organic Arrowroot Powder, Organic Extra Virgin Coconut Oil*, Tallow from Grass-Fed Cows, Organic Beeswax, Baking Soda, Non-nano Zinc Oxide, White Kaolin Clay, Activated Coconut Charcoal, Organic Essential Oils of Eucalyptus and Peppermint (*= FAIR TRADE)
Our Review: This is hands-down the best deodorant Kevin and I have ever tried. The smell is fresh and has a hint of mint, while not being overpowering. And it works ALL DAY LONG! We both don't have odors by the end of the day. We loved it so much, we purchased a 6-month supply after we used up our first one! Great job, Primally Pure!!
Description: Based on the scientific principle that like dissolves like, the oil cleansing method utilizes beneficial oils that penetrate deep into pores to dissolve grime and build-up. This age-old method of cleansing effectively purifies + nourishes the skin while keeping its natural moisture barrier in-tact.
Ingredients: Jojoba Oil*, Castor Oil*, Avocado Oil*, Pomegranate Seed Oil*, Essential Oils of Orange*, Lavender*, Geranium* and Peppermint* (*=ORGANIC)
Our Review: Another product we love! Kevin and I use this to cleanse our faces at night. I have very oily skin and Kevin's skin is more neutral. The "normal skin" version works perfectly for both of us.
Description: Just as its name implies, this spray does it all. Use it as a natural toner or spritz it on sensitive areas after shaving to prevent ingrown hairs. Everything Spray can also be used as a quick + easy underarm refresher after the gym and is also effective in soothing a wide range of inflammatory skin conditions.
Ingredients: Lavender Hydrosol*, Distilled Water, Witch Hazel*, Aloe Vera Juice*, Raw Unfiltered Apple Cider Vinegar*, Magnesium Oil, Radish Root Ferment Filtrate, Essential Oils of Lavender* and Tea Tree* (*= ORGANIC)
Our Review: We've been using the Primally Pure Everything Spray as a toner and a healer as the bottle states. We tone our face with a couple of spritzes after we cleanse our faces with the Primally Pure Cleansing Oil. And also, as you may know, I have Type 1 Diabetes and I wear an insulin pump and CGM (Continuous Glucose Monitor) (typically on my abdomen). Many times the adhesive on these wearables irritate and inflame my skin and the Primally Pure Everything Spray has been an amazing tool to heal and calm the inflamed area! It also seems to help with itchy skin – even mosquito bites! We have about half a bottle left and will be purchasing more soon!
Description: Made with a generous 300 mg per oz of organic, full-spectrum CBD Oil. It powerfully repairs delicate/damaged skin, visibly relieves redness/sensitivities, and calms inflammation/acne to create a clear, balanced complexion. Potent in antioxidant, antibacterial, and anti-inflammatory benefits, our hemp-derived CBD Oil powerfully improves sensitive skin, acne-prone complexions, and inflammatory conditions. Our CBD Serum has a woodsy, herbaceous aroma and is packaged in a glass bottle.
Ingredients: Jojoba Oil*, Pumpkin Seed Oil*, Pomegranate Seed Oil*, Squalane Oil (from olives), Evening Primrose Oil*, Tamanu Oil*, Hemp Seed Oil*, Gotu Kola*, Ashwagandha*, Pau D'Arco*, Yarrow*, Marshmallow Root*, Essential Oils of Rosemary* and Juniper Berry*, Full-spectrum CBD Oil* (300 mg per oz) (*=ORGANIC)
Our Review: This stuff works! Our skin has been evened out, brighter, and calm. The scent itself is pretty woodsy and I wouldn't use it during the day, but for the evening, it's just fine. This serum calmed the redness my skin normally gets and has truly evened my skin tone. We use it after the Everything Spray.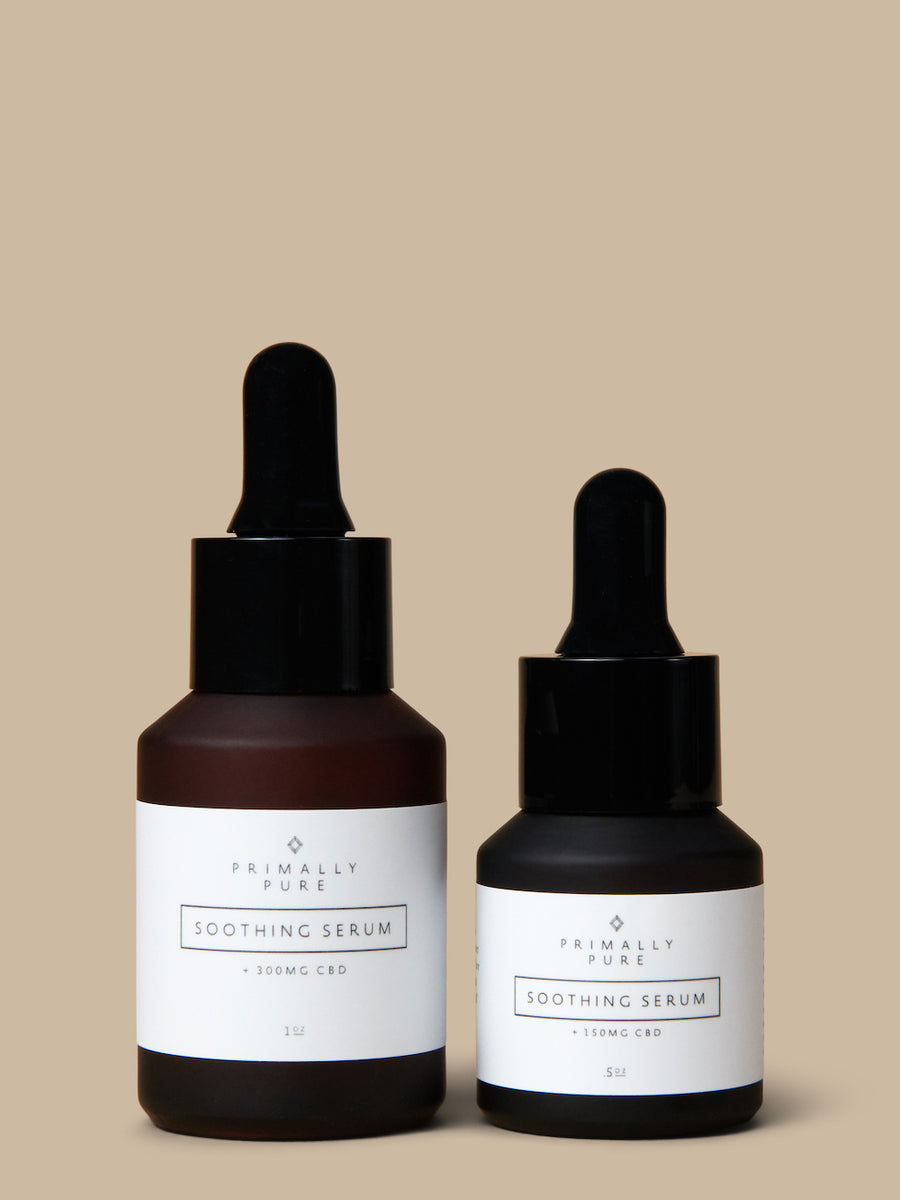 Description: For days when you're in a hurry or when washing/drying your hair feels like too big of a task, our natural dry shampoo will be your new best friend. Our light locks dry shampoo contains arrowroot powder and kaolin clay, with a small amount of cocoa powder to create an off-white color that blends seamlessly with all shades of blonde.
Ingredients: Arrowroot Powder*, Kaolin Clay, Cocoa Powder*, Baking Soda, Essential Oils of Grapefruit*, Lavender* and Peppermint* (*=ORGANIC)
My Review: I love the ingredients. I love the idea of it. I just can't get it to work for me. My hair is so oily that it doesn't do much at all. I'm hoping I can find a technique that I can use with this that works!
Description: Our natural lip balm is available in 5 delicious scents – all of which contain only a few nourishing ingredients that will give your lips a smooth and healthy feeling that lasts.
Ingredients: Organic Beeswax, Organic Extra Virgin Coconut Oil*, Organic Cocoa Butter*, Organic Tallow from Grass-Fed Cows, Organic Mango Butter, Organic Peppermint Essential Oil (*=FAIR TRADE)
Our Review: I've been searching for years to replace my Spearmint flavored Chapstick brand lip balm and this Primally Pure Lip Balm in Peppermint is SO much better! My old chapstick was rated an "F" on the "clean" scale and this one is an "A"! The peppermint scent is amazing and I've already stocked up for 6-months on this product as well! Definitely a must-have!
Types of Products Primally Pure Carries
In addition to the items mentioned above, Primally Pure carries a whole slew of other products. Here are some of their categories:
Overview & Primally Pure Discount Code
All of these Primally Pure products are rated an "A" on the clean scale and we couldn't be happier with that! They are not only "clean" but work well! We are so happy we are able to clean up our skincare routine and will be using these products for years to come! Since we love these products so much, I became a Primally Pure Ambassador! This means I can offer you a 10% discount off your Primally Pure order with code "AMANDARAY"! I truly hope you give these products a try. I'm sure you'll love them as much as we do!
Let's get social! Connect with me…
INSTAGRAM | BLOGLOVIN' | ETSY SHOP | FACEBOOK | PINTEREST | TWITTER
PIN FOR LATER: